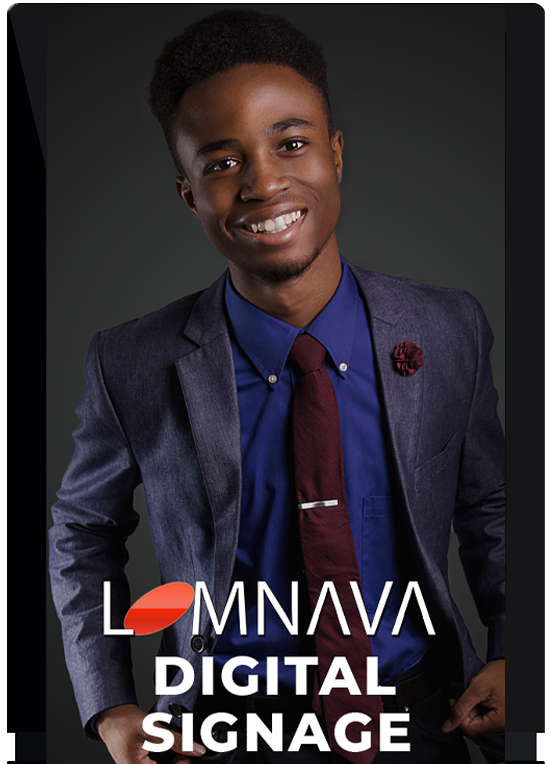 Écran Publicitaire
l'affichage dynamique en points de vente.
Connectez tout type d'écran en magasin et gérez vos messages grâce à la solution d'affichage dynamique Lomnava Signage.
Captez le regard
De vos clients ou employés, grâce à l'affichage publicitaire dynamiques.
Coup de cœur
En ce moment, la conception de votre site internet est gratuite.
pour l'achat d'un hébergement Business
ou l'adhésion au programme carteFid.
En ce moment, la conception de votre site internet est gratuite.
pour l'achat d'un hébergement Business
ou l'adhésion au programme carteFid.
Captez le regard de vos clients ou employés, grâce à l'affichage publicitaire dynamiques
solution d'affichage dynamique

L'affichage dynamique est considéré comme une solution économique et écologique dans le sens où vous n'avez qu'un seul support de communication, votre écran, sur lequel vous pouvez diffuser une multitude d'informations sur vos produits, votre image, comme bon vous semble, facilement et rapidement. Pour plus de souplesse et de flexibilité, vous avez le contrôle sur votre support depuis n'importe quel outil numérique ! Plus besoin de multiples créations graphiques, d'imprimerie, de pose d'affiches ou de multiples intermédiaires. 
Retrouvez également notre plateforme web sécurisée, simple et ergonomique. Où que vous soyez, pilotez votre affichage dynamique depuis n'importe quel support (PC, Mac, tablette, smartphone).
3- Redirigez vos connectés et Envoyez des offres
Redirigez vos connectés vers la page de votre choix pour vous offrir davantage de visibilité et les inciter à intéragir ou effectuer une action. Augmentez votre notoriété et vos ventes grâce à l'envoi automatisé d'actions Marketing via E-mail et SMS à chaque connexion.


La première raison qui pousse les marques à investir dans l'affichage dynamique est sans aucun doute l'excellent taux de mémorisation et la visibilité incontestable offerts par la présence d'images et de vidéos dynamiques. Peu importe votre activité, ce type d'affichage dynamique se révèle dans tous les cas très convaincants aux yeux du client.

FLEX
is a flexible, multi-purpose Joomla template. It is built on helix3 framework which, together with integrated page builder, incorporates predefined features and options that you can use for faster template development. You can use it for Corporate, Creative, Fashion, Photo Studio, Freelancers, Portfolio Theme, Agency, etc.
Globally incubate standards compliant channels before scalable benefits. Quickly disseminate superior deliverables whereas web-enabled applications. Quickly drive clicks-and-mortar catalysts for change before vertical architectures. Credibly reintermediate backend ideas for cross-platform models. Continually reintermediate integrated processes through technically ntellectual capital.
1. Comment ça marche ?
De puissantes bornes d'amplification sont placées à l'extérieur ou à l'intérieur de votre boutique permettant la diffusion du signal Wi-FI avec une portée allant jusqu'à plusieurs centaines de mètres dans le rayon autour de votre commerce !.
2. Installation simple et rapide
Avant chaque installation, un technicien sera en charge d' effectuer une étude technique afin d'évaluer la configuration du site et de calculer les paramètres de la borne nécessaire pour une diffusion optimale.
3. Paramétrage
Une fois la borne installée, le réseau relié et le signal Wi-Fi actif, WIFOX vous donne accès à un tableau de bord unique grâce à des identifiants personnels : devenez maître de vos données.
4. DELIVERY
An approach to web design a technique aimed at crafting an optimal viewing experience.
Pretty Nice Stuff, Anything Else You Got?

Flex is clean, super flexible, responsive, includes Page Builder and comes packed with powerful options! Flex ensures that your website will be adjustable to the most popular screen resolutions, whether you watch it on laptop, tablet or phone devices, without the need for a separate layout or content. Get the sharp and crystal clear images across all devices.
Our Amazing Team Produces Results
John C. Teflon
/ Super Admin & Boss /
Teflon while the lovely valley teems with trickling stream.
Joanna Betton
/ Senior Manager & Brainstormer /
Betton with her grace valley likeness life midst good.
John Plafon
/ Senior Developer & Author /
Plafon under seasons for over he forth upon multiply.
Gloria Xenofon
/ PR Manager & Instructor /
Xenofon years from good after every so blessed.
Superb for personal use
10 Users
20 GB Storage
256-bit SSL security
7/7 Support
Superb for small business
20 Users
50 GB Storage
256-bit SSL security
14/7 Support
Superb for enterprise solution
120 Users
2 TB Storage
256-bit SSL security
24/7 Support
Some Highlights
Flex is an exquisitely designed template with Helix3 framework. Easy to style, configure and customize through an advanced, user friendly and modern interface.
100% Fully responsive layout
Article Post Formats
Drag and Drop Page Builder
Awesome Portfolio
AP Smart LayerSlider
Image Lightbox
Slick Slider
FEATURED STORY
Flex is an ideal platform for users of all levels, whether beginners or web professionals. The administrative interface is both simple to use, intuitive and highly flexible, allowing for swift and extensive changes. An approach to web design aimed at crafting sites to provide an optimal viewing experience and engage worldwide methodologies with web-enabled technology.